I love a good hearty and flavorful cool quinoa salad on hot summer days. This recipe came about this past summer when thinking what we could bring to a BBQ. While there is a lot of dicing and chopping involved, it comes together quick and compliments most BBQ dishes.
Ingredients
Quinoa:
Black Beans:
Extra Virgin Olive Oil:
Pita:
Tips
Refrigerate before serving for at least 20 minutes for the perfect temperature. Like I said, a 'cool' quinoa salad.
Soak the diced red onion in a bowl of cold water, 10 minutes, while quinoa is cooking. This neutralizes the taste, so it doesn't overpower the flavor.
Cook black beans to slightly soften, 5 -8 minutes.
This recipe is a great addition to any BBQ menu. It's also a great make-ahead salad before a work week.
It's a perfect snack to sneak in between client calls by serving it with pita bread, while in a planning meeting or as a quick lunch by adding protein.
Black Bean Quinoa Salad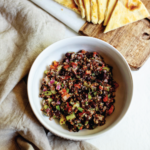 1 cup tri-color blend quinoa (cooked per instructions and cooled)
1 can black beans (lightly cooked (about 5 minutes on medium heat) and strained)
1/2 red onion (finely chopped)
1 cucumber (peeled, desseded and finely chopped)
1 red pepper (deseeded and finely chopped)
2 jalapeños (deseeded and finely chopped)
2/3 cup cilantro (finely chopped)
1 tsp garlic powder
1 tsp onion powder
1 1/2 tsp ground cracked pepper
1 1/2 tsp sea salt (plus a little more for finishing)
2/3 cup red wine vinegar
3 tbsp extra virgin olive oil
1 lime (squeezed)
1/2 lemon (squeezed)
Cook quinoa per the instructions.

While the quinoa is cooking, finely chop red onion (then soak in small bowl), cucumber, red pepper, jalapeños and cilantro. Add to a big mixing bowl.

Once quinoa is cooked, add to big mixing bowl.

Using the same pot as the quinoa, warm black beans, strain and add to a big mixing bowl with quinoa and other ingredients above.

In the big mixing bowl, combine the dry spices; garlic, onion, ground cracked pepper, sea salt.

Add wet ingredients; red wine, extra virgin olive oil, lime and lemon

Thoroughly mix all ingredients together.