It was one of those days. You get a 30 – minute window until your next meeting and you stand up, stretch and go over to the refrigerator to see what's for lunch.
That day —nothing immediate was available other than a banana with peanut butter and let's be honest, we can hardly call that lunch.
That day, this idea came to life by looking into the refrigerator, scanning the goods and then into the veggie basket. I wanted something quick but fulfilling. So, I followed my senses and intuition and started assembling an easy go-to that I will forever crave.
Heirloom Tomatoes on Ricotta Toast with Honey and Basil.
Not sure if it's a Jersey thing, but I always toast bread even if it's super fresh. I just love a little crunch. So, that's where you start— toasting the bread (my usual choice is sourdough). While you toast, begin whipping the ricotta in a bowl with spices (sea salt, black pepper), and two basil leaves cut in thin ribbons. Quickly after, slice your tomatoes. Make sure the tomatoes are consistently sliced thin.
Once your toast is ready, slather on the incorporated spiced ricotta, place thinly sliced tomatoes and finish with a drizzle of honey, extra salt and pepper and ribboned basil. done.
The verdict: Super simple, so quick, and a not so messy open-face sandwich you can bring back to your desk if something urgent comes up. Otherwise, enjoy outside on your front porch away from technology so you can fully decompress.
Actually, urging you do the latter! 👏🏻
Ricotta Toast with Heirloom Tomatoes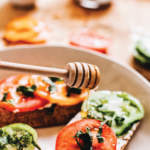 1 cup ricotta
2-3 heirloom tomatoes
1 loaf sourdough bread
1/4 cup fresh basil (ribboned, plus a little extra)
2 tbsp honey
1/4 tsp sea salt
1/4 tsp cracked pepper
Whip and combine ricotta with a dash of sea salt, cracked pepper, ribbon basil; set aside.

Slice heirloom tomatoes.

Lightly toast sourdough bread.

Assemble by layering ricotta, heirloom tomatoes, and additional ribbon basil.

Drizzle honey and finish with a little more salt and pepper.