While there are quite a few ingredients in this recipe, I promise you— every ingredient has its purpose. And, while I am not a nutritionist, I rely on how I feel after consuming all the things I eat. After enjoying this smoothie, I feel perfectly nourished, full, and ready to seize the day.
As for the secret ingredient, we are big advocates of wild blueberries.
Don't get me wrong — I love myself some good ol' blueberries. However, when chatting with the Wild Blueberries Commodity Board regarding a partnership with a past client of mine, I learned a TON about this antioxidant power house and now, of the berry family, wild blueberries are the ones we use the most.
Per the Wild Blueberries commodity board, wild blueberries have 2x the antioxidant + 72% more fiber blueberries has. Wild blueberries also have 33% more anthocyanins, which notably is said to reduce inflammation. And from further research, inflammation is known to be the root of disease.
You may think wild blueberries are not accessible, but I am here to tell you they are. I buy Wyman's wild blueberries in the freezer aisle all year round. Now, on to the next fun fact— "frozen veggies and fruits have the same or potentially greater nutrition value as fresh". Wild right?!
Next time you are shopping for berries, don't look past the freezer aisle, wild blueberries will be available for your next smoothie.
Wild Blueberry, Kale, Almond Butter and Walnut Smoothie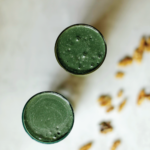 1/2 cup filtered water
1 1/2 cups elmhurst walnut milk
2 tbsp honey peanut butter
2 tbsp collagen peptides
2 tbsp Laird Superfood Creamer
1 tbsp chia seeds
1 tbsp flax oil
1 tsp Hawaiian Spirulina
2 handful spinach (frozen)
1 cup wild blueberries (frozen)
1 handful ice
In a vitamix blender, add filtered water, walnut milk, almond butter, collagen, superfood creamer, chia seeds, flaxseed oil, spirulina and lightly blend until mixed.

Add wild blueberries, kale, spinach, and blend until completely incorporated.

Add handful of ice and blend until creamy and smooth.
Buy fresh greens (kale and spinach) in a container and store in your freezer for your smoothies.