I never had a consistent skincare routine up until a few months ago right after I turned 34,
At the core, I am a naturalist and very much into simplicity; a five step skincare process never felt sustainable and make up always felt itchy and unnatural.
So, my process was very simple. I used CeraVe for face wash, ordinary body lotion on my face for moisturizer (cringe), and wore make up only when I had someplace to be.
However, as I aged, I felt my skin aging and it always felt dull.
BEAUTYCOUNTER:
After two years of hearing positive experiences with Beautycounter and learning about its non-toxic benefits, my sister started using their products and via her enthusiasm and knowledge on the products— I finally made the investment. Ultimately, as a naturalist, I felt most connected to their safer ingredients and mission. Not to mention, Beautycounter employs thousands of consultants; they are modern career women. Their consultancies are either side hustles or their full-time gig among being a mother.
When it comes to food, I am constantly reading ingredients on labels to eat as clean as possible, which I learned from Whole 30. So, in theory, if I am so dedicated and passionate about what I am putting in my body, why wouldn't I be equally dedicated and passionate about what I am putting on my body?
As a consultant, my sister provided recommendations based on my skin type as well as the results I wanted to achieve.
In short, I have mild to moderate oily and blemish prone skin, yet dull and dry skin (since I live in high altitude) and in terms of results, I was looking for hydration, a youthful glow and anti-aging benefits.
Here is what I started with:
Countermatch Collection
Additional products:
From my first experience, I immediately achieved the result of hydration and glow, however, initially, the side effects resulted in tiny breakouts in my T-zone area, which prior to Beautycounter and with CeraVe, I did not get. An optimist with slight dissatisfaction, I spoke with my sister and she said to try the Countercontrol Clear Pore Cleanser.
I added the Countercontrol cleanser (+ couldn't help but also purchase Skin Twin + Countersun Daily Sheer Defense for Face – SPF 25 ) and within a few days, I achieved full statisication with my skincare regimen.
All these products stand alone well, but together— this regimen became a powerhouse.
So, here is my most current morning routine and why I love it:
Note: If I have video conference calls I will put on eye shadow or when I am going out to dinner or to a friend's small gathering or BBQ. I love the color palates.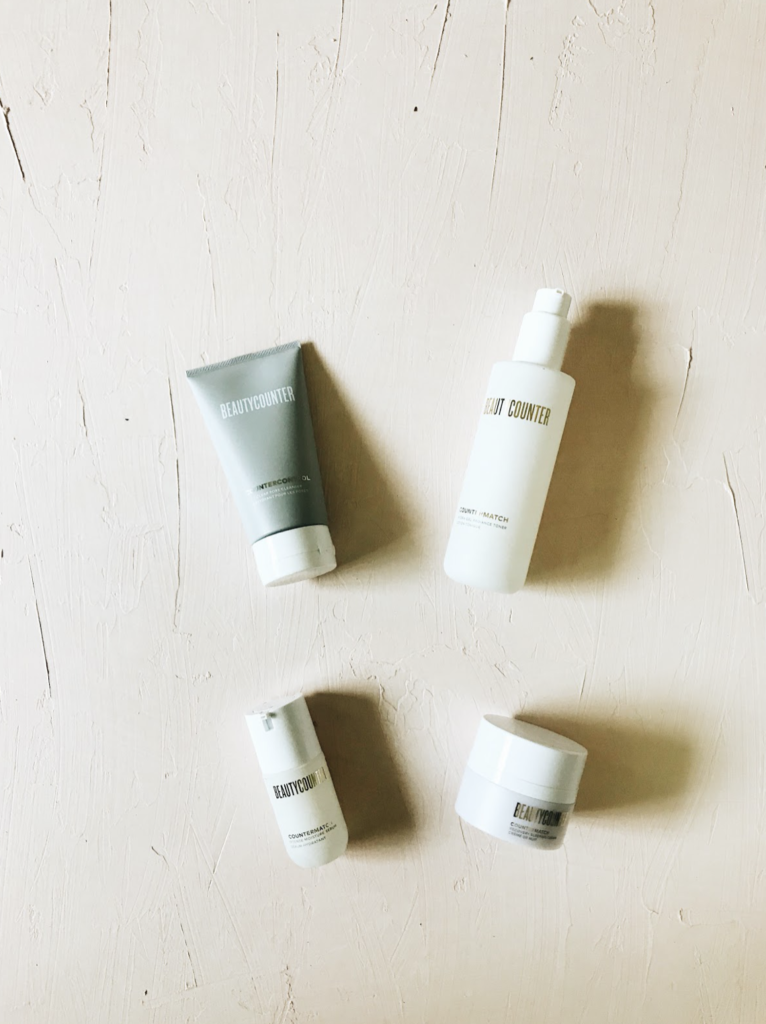 Here is my night time routine and why I love it:
All in all— I am so happy I made this investment. I don't have buyers remorse after honing in on the best regimen for my skin. There was a point where I felt a bit discouraged but due to the variety of products available for all skin types, it's all about first understanding your skin, having a knowledgeable consultant and from there, decide which products will be best for you. No face is the same. So, although the collections are turnkey, you might have to pivot to customize to your skin.
And, thankfully, there is a 60-day return policy, so if a product has adverse effects— you can return it, try a new product and tweak your regimen as needed. To note: I didn't return any products because I still use all products above.
For more products and information on Beautycounter, head to their website!
3